---
Production of tooling and test blocks which support the process of production of wire harnesses to ensure a high quality product.
In these systems we use the coding connectors - it depends on the execution of the socket, which corresponds to only a given connector. Connector sockets are provided with respective test needle adequately to the beam. After an appropriate sharing and mounting sockets on the table, employee breaks the beam correctly, do the appropriate connections and tests the beam. After the test is done beam is released.
Testing Blocks for electrical tests
Testing block is designed to test electrical connector. Cube is mounted in a block which is provided with appropriate tests. After closing latches followed by a test.
Examples of the cubes to which we make testing blocks and assembly units.
---
Blocks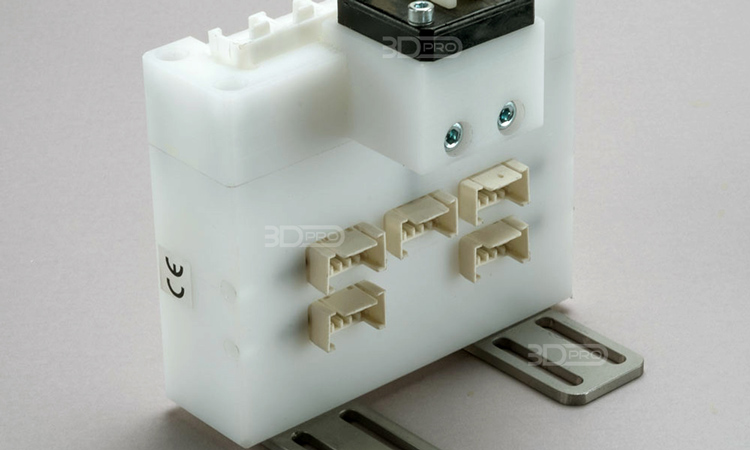 ---
Moduł montażowy opaski zaciskowej
Przeznaczony jest do montażu opaski zaciskowej na wiązce i jej detekcji. Opaska zaciskowa jest mocowana w module, następnie zostaje zaciśnięcia na wiązce kablowej. Specjalny czujnik optyczny wykrywa jej obecność i przesyła sygnał do jednostki sterującej. Po zakończonym procesie następuje automatyczne wypchnięcie zacisku.
Przykładowe opaski zaciskowe do których wykonujemy bloki detekcyjne i montażowe
---
Moduł montażowo-testujący konektora
Moduł wyposażony jest w blaszki kodowe, które pozwalają na test tylko konektora, który odpowiada kodowanym blaszkom. Konektor jest mocowany w gnieździe modułu. Następuje jego przytrzymanie przez zapadkę i wykonanie testu za pomocą igieł testowych. Po zakończeniu testu i innych aplikacji konektor zostaje automatycznie zwolniony
Przykładowe kostki do których wykonujemy bloki testowe, montażowe
---